AW Beautic

ian -

Facial Treatments

-

Retix C
---

Xylogic Retix C
Treatment is an intensive anti-aging treatment based on Acticell 40% which contains the most effective rejuvenating ingredients in appropriate concentrations and effective formulas. Its purpose is to comprehensively improve the appearance of the skin: reconstruction of collagen fibers, improvement of skin tension, smoothing, brightening of hyperpigmentation, intensive moisturizing.
​
​
​
​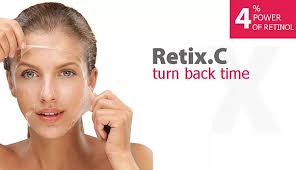 ​
​
​
​
​
The treatment is performed on the face and neck - a powerful anti-aging therapy and reducing skin imperfections, while performing on the body is apparently a treatment that reduces stretch marks.
​
Retinol in the form of a stable and innovative Matrix polymer complex, exhibits elongated and increased penetration deep into the skin, while minimizing the concentration. ActiCell 40%: Vitamin C 8% as levorotatory stereoisomer of ascorbic acid and 30% Antioxidants have an extremely effective rejuvenating effect and protects the skin from harmful oxidative reactions, resulting in a 40% Retinol 2% contained in the ActiCell formulation for prolonged and optimal therapeutic effects.
Operation of Retix.C
- regulation of the epidermis,
- reconstruction of collagen fibers, elastin, GAG and stimulation of skin renewal,
- smoothing, brightening pigmentation spots and reducing skin imperfections,
- concentration and improvement of skin tension,
- increased skin hydration level, thanks to the reduction of water loss from the
epidermis (TEWL - Transepidermal Water Loss)
- protection against photodamage and increase the natural protective barrier of the
skin, thanks to which it is possible to restore the correct vitamin A level in the skin.
Effects of the treatment
The skin is visibly rejuvenated, illuminated, firm and tense, and the wrinkles are less visible.
Contraindications
- skin exposure to the sun (very sunny summer),
- skin allergies,
- active herpes,
- tendency to keloid formation,
- condition after facial surgery (up to 2 months),
- pregnancy
- breast-feeding
- numerous melanocytic markers
- numerous teleangiectasia
- condition after cryotherapy (up to 6 months)
- autoimmune diseases
- skin irritated, damaged
- severe forms of acne-require prior pharmacological therapy,
- oral derivative therapy wit. A (Roaccutane) - required at least half a year break.
After performing a professional part of the surgery in the office, the patient goes home with a retinol mask that he cleans himself after 6-8 hours.
​
The amount and frequency of treatments depends on the skin and the needs of the patient.
​
During the treatment period and one month after its completion, use a sunscreen lotion (SPF 50+)
TIME: 1h
PRICE: £50
To arrange a free consultation please contact by phone 0757119190 or