AW Beautician -

Facial Treatments -

Microdermbrasion Crystal
---
Crystal Clear Microdermabrasion is recommended as one of the best salon facials for fine lines and wrinkles, in a guide to looking 10 years younger in 10 days.
What is Crystal clear microdermabrasion?
Crystal Clear Microdermabrasion takes years off your complexion by gently exfoliating the outer layers of skin. Because its a safe and controlled method of skin resurfacing, the treatment can be used to solve a wide range of skin concerns on both the face and body.
Microdermabrasion provides immediate and visible results for:
​​ ageing skin,
​​ lines and wrinkles,
​​ open pores,
​​ blackheads,
​​ pigmentation,
​​ blemish scars,
​​ acne scars,
​​ stretch marks and so much more.

Youll see the difference after just one treatment; however for more problematic skin a course of treatments may be required.
With regular treatments, the skin increases its collagen and elastin formation, giving you a naturally firmer and rejuvenated appearance. Building on this, the gentle vacuum action gives the facial muscles a mini workout each time, providing an immediate lifting effect and an on-going improvement in tone.

What are the benefits of this treatment?
Crystal Clear Skin System is the perfect salon treatment as it delivers instant, visible, results. It is suitable for all skin colours and all skin types and can be used to treat a wide range of skin problems on the face. Salon applications include:
A complete perfect facial
Perfect for aging skin as it visibly reduces fine lines and wrinkles
Excellent results on acne scaring
Pigmentation
Sun damaged skin
What is involved?
The Crystal Clear handset is placed on to the skin and a microscopic flow of crystals is directed onto the surface of the skin. The speed of the crystals, together with their abrasive nature, gently removes the epidermal cells layer by layer. Used crystals and dead skin cells are drawn away through the vacuum action.
Used crystals and dead skin cells are drawn away through the vacuum action, allowing for the controlled exfoliation of the Stratum Corneum.
The gentle vacuum action also achieves an immediate lifting effect on tired muscles and stimulates the blood supply to the skin's surface to help promote new collagen and elastin formation.
Specific attention is given to any areas of concern such as open pores, fine lines & wrinkles, blemished skin or acne scaring, resulting in dramatically rejuvenated skin.
What happens when I come for treatment?
First of all, we discuss your skin concerns and devise a treatment plan to suit your individual needs. We then go through come or all of the following stages, depending on the treatment you have chosen.
We thoroughly cleanse the skin with Crystal Clear soothing Cleansing Gel to remove any deep-seated impurities. We rinse with warm water and dry the skin
thoroughly ready for the Crystal clear Microdermabrasion.

Next we pass the specially- designed hand piece over the face and neck, gently removing dead skin cells and stimulating the production of new collagen and elastic formation.

Then we work over any areas of concern such as open pores, wrinkles, blemished skin, pigmentation or acne scarring. We concentrate on these areas to stimulate the cell renewal process to achieve a clearer, fresher complex.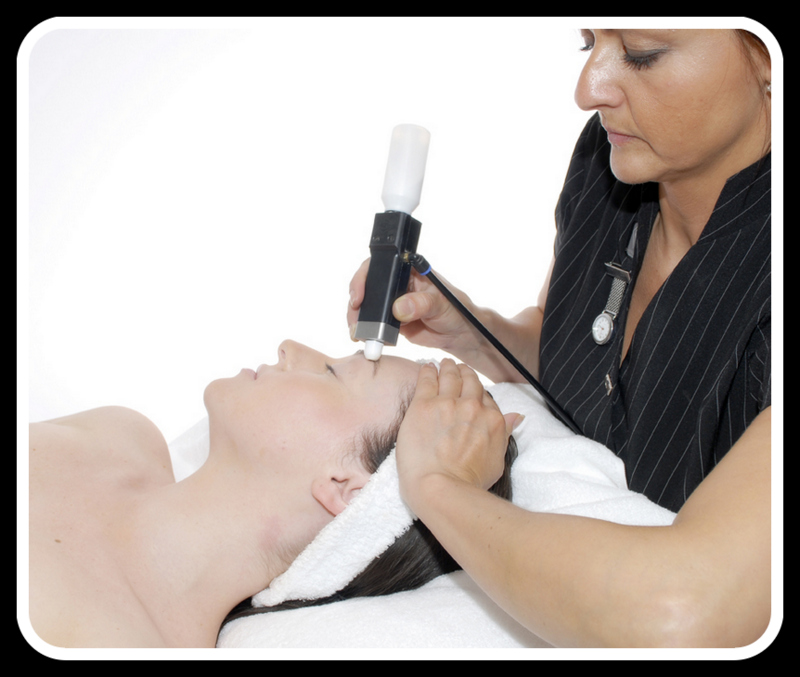 We create a firming and lifting effect by using the vacuum action of the handset along the contours of the face, an isometric movement is achieved which results in an immediate and obvious lift.

If you have booked the crystal clear luxury booster facial then, once the Microdermabrasion and lifting part of the treatment is complete, we apply a crystal clear mini mask lift and leave to set, to achieve maximum hydration and firming benefits.
History of Crystal Clear
Since its inception in 1995, Crystal Clear has quickly established itself as one of the world's leading providers of hi-tech beauty technology and skin care products.
Crystal Clears success has been built upon its commitment to the research & development of new products, with a passion for providing exceptional treatments that deliver outstanding results.
A string of celebrity endorsements have generated significant public awareness and media coverage of Crystal Clears product range and reinforced its position as the preferred Beauty Treatment to the Stars!
Crystal Clear is now respected as one of the leading brands within the professional beauty industry, with a constant stream of referrals and a promise to deliver results that ensures customers always return.
Products
Inspired by science, the Crystal Clear prescription skincare range has been researched and formulated in Paris by our leading chemist, to offer you outstanding results in skin rejuvenation. At the centre of our Crystal Clear skincare range is the individual Choices Programme, with your specific needs in mind. The Crystal Clear Professional Classic Range complements the facial and home use between treatments.
All Crystal Clear products are truly innovative in their formulation, technologically advanced and clinically proven to rejuvenate and promote healthy, vibrant skin. Suitable for all skin types, the products do not contain genetically modified ingredients.

Frequently asked questions
Does it hurt?
The treatment is really relaxing and doesn't hurt at all. All you feel is a slight suction on your face, the suction brings the blood supply to the skin's surface to help promote new collagen and elastin formation.

Do you do courses?
Yes we do courses and your therapist will advise you if a course is needed.

What will I look like after the treatment?
Your skin will look soft and smooth with a healthy glow.

Is there anything i should do before i come in?
We advise clients to remove contact lenses before treatment.
No exfoliating for 3 days prior.
No Botox for 14 days prior or fillers for a month prior to the treatment.

Aftercare advice…
Avoid heat treatments (including hot baths and showers) and UV exposure for 48 hours.
Avoid exercise (anything that might make you sweat) and swimming for 24 hours.
Must use a SPF of 15 or more at all times.
No sun beds throughout the duration of the course.
Avoid touching or itching the area for 24 hours.
Only use Crystal clear products directly after the treatment.
We recommend that for 12 hours clients do not put anything on the skin including make-up, cleanser, moisturiser and don't apply fake tan for 2-3 days after the treatment.
No exfoliator is to be used on the face for at least 7 days.
Your therapist will discuss any products that you need to be using at home after she has looked at your skin.

Can everybody have this treatment done?
Not everyone can have this treatment done, this is the list of contra- indications:
Active or uncontrolled diabetes- If it is diet controlled you could have a treatment however you would need a GP's note. If you are on streoids for the condition we can not treat.
Skin cancer & autoimmune diseases such as: aids, HIV, ME and MS.
Eczema, seborreic dermatitis, psoriasis- If its just a small patch we can work around the area, but if it's all over the face we recommend not having it done.
Telangiectasias- Broken capillaries can be worked around.
Rosacea & active acne- Suggest not having the treatment as the bacteria could spread around the face.
Herpes simplex- Can be stimulated due to micro-circulation therefore if you are prone to outbreaks it is recommended that a preventative cream be used 2 days prior and 3 days after treatment.
Asthma- Only if on steroids for the condition. (Blue inhaler ok to have the treatment, if in haler is pink or purple you cannot have the treatment).
Keloid scars- can avoid the area.
Accutane- Given bu your GP for acne. The client should finish the course and leave at least 6 months before having a MDA treatment, this allows the skin time to repair itself.
Pregnancy- All stages should be avoided as hormone levels are higher during this time, also leave 3 months after giving birth till you have the treatment.