Skin ageing caused by systematic sun exposure, facial blemishes due to excessive pigmentation and, in general, imperfections caused by melanin, are more and more common problems today… Dark blemishes, especially on hands and face, are one of the greatest aesthetic concerns of modern men and women… It will only be possible to remove the anti-aesthetic skin blemishes and recover the smoothness of the skin, bringing back its luminosity, with a treatment that has a direct effect on the intimate formation process of the pigment (melanin).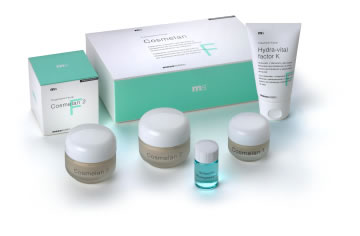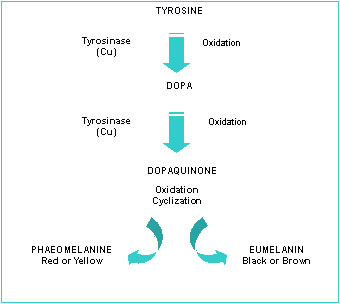 Cosmelan® Depigmentation treatment action mechanism is based on the inhibition of tyrosinase, a basic enzyme in the melanin formation process. Several of the substances present in the Cosmelan® formula act by blocking this enzyme, or even by inverting the metabolic process of the transformation chain. Melanogenesis comprises the following stages
TYROSINE proceeds to DOPA by means of TYROSINASE.
DOPA proceeds to DOPAQUINONE by means of TYROSINASE.
DOPAQUINONE proceeds to PHAEOMELANINE and EUMELANIN
by means of oxidation and cyclization.
ADVANTAGES
The Cosmelan® Depigmentation treatment offers a series of major advantages and benefits compared with other types of depigmentation products found in the market:
​
​
Very effective in all types of melasma
​
​
Rapid and easy depigmenting action
​
​
Compatible with ALL skin types (Fitzpatrick I – VI)
​
​
Light peeling effect
​
​
Rejuvenates the skin
​
​
Treatment can be used all year round
​
​
Beneficial for acne patients
​
​
Does not contain TCA
​
​
High safety margin
RESULTS
In 99% of the cases, the disappearance of the blemishes improves by 95%...
ONE WEEK after starting the Cosmelan® Depigmentationtreatment, a noticeable significant improvement of the skin is observed! The reduction of the treated blemish is detected and the appearance of new luminous and rejuvenated skin is present. At the end of the Cosmelan® Depigmentation treatment, the blemishes start to disappear altogether, so that, although the patient may be able to "locate" the place where the spot was, the truth is that the pigmentation will have disappeared and nobody will be able to see it just by looking at it.