AW Beautician - Laser hair removal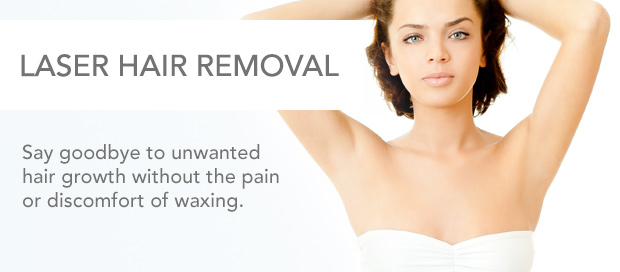 Never Shave, Wax or Pluck Again Say goodbay to unwanted hair growht without the pain or discomfort of waxing
Laser Hair Removal Service
Stop shaving, waxing, or plucking when you choose laser hair removal.

Unwanted facial and body hair can be problematic for men and women of all ages. Our Laser process for hair removal give you a fast and easy solution for permanent hair reduction so you can look and feel your best.
Laser hair removal reduces the need for shaving, which can leave your skin irritated and often results in unsightly stubble. It's an advanced solution that frees you from razors, waxing and creams to get rid of the hair on your face and body-and it gives you the convenience of ready-to-bare skin every day.
Laser hair removal is a commonly performed procedure that can help you get rid of unwanted hair on virtually any area of your body. The results can mean smoother skin and less time and money spent on waxing and shaving, which makes it one of the most popular cosmetic treatments.
This long-term hair removal method involves minimal discomfort and at AWBeautician -beauty therapy , we regularly perform laser hair removal on both women and men of all skin types. It's suitable for almost any part of the body including your arms, back, cheeks, chest, chin, ears, eyebrows, face, legs, bikini line and underarms.
Interested in finding out more? Get in touch with us today to book your free consultation, where you can discuss with one of our specialists the laser hair removal costs, treatment details and likely results.
Book a free consultation
Laser hair removal frequently asked questions

If you're considering this treatment, you're likely to have plenty of questions relating to the treatment, results and cost of laser hair removal. We've answered the most common questions below, but if you can't find the answer you are looking for then please feel free to contact us for more information.

TRIO CLUSTERED DIODE TECHNOLOGY
3 wavelengths covering the optical spectrum – 810 nm, 755 nm, and 1064nm​

Versus™ 3 Color offers the synergistic benefits of the 3 most effective wavelengths for hair removal, each targeting different structures within the hair follicle.
Alexandrite Wavelength ALEX 755NM

The Alexandrite wavelength offers more powerful energy absorption by the melanin chromophore, making it ideal for the widest range of hair types and
color- especially light-colored and thin hair. With more superficial penetration, the 755nm wavelength targetsthe Bulge of the hair follicle and is especially effective for superficially embedded hair in areas such as the
eyebrows and upper lip.
DIODE SPEED 810NM WAVELENGTH
The classic wavelength in laser hair removal, the 810nm wavelength, offers deep penetration of the hair follicle with high average power, a high repetition rate and a large 2cm spot size for fast treatment. The 810nm has a moderate melanin absorption level making it safe for darker skin types. Its deep penetration capabilities target the Bulge and Bulb of the hair follicle while moderate tissue depth penetration makes it ideal for treating the arms, legs, cheeks and beard.
Nd:YAG laser YAG 1064NM WAVELENGTH
The ND:YAG 1064 wavelength is characterized by lower melanin absorption, making it a focused solution for darker skin types.
At the same time, the 1064nm offers the deepest penetration of the hair follicle, allowing it to target the Bulb and Papilla, as well as treat deeply embedded hair in areas such as the scalp, arm pits and pubic areas. With higher water absorption generating a higher temperature, the incorporation of the 1064nm wavelength increases the thermal profile of the overall laser treatment for most effective hair removal.
Laser Hair Removal is the fastest growing procedure in cosmetic dermatology. Most commonly women choose to remove unwanted hair from their chins, upper lip moustache, face, bikini line, underarm or legs, and men most commonly choose to remove hair from their chest and back areas.

The Versus™ 3 Color advanced laser system is replacing unpleasant, time-consuming hair removal methods like waxing, electrolysis, or IPL by gently removing hair without causing irritation and minimising the chance of scarring and pigmentation changes.

The Versus™ 3 Color Laser quickly and effectively treats multiple hair follicles at once with no down time, enabling patients to resume their activities immediately after treatment. Best of all, this non-invasive, effective approach yields permanent hair reduction and long-term hair removal.
HOW SAFE IS IT?
The VERSUS Laser parameters are specifically designed to match your skin and hair type, assuring exceptionally precise and gentle treatments. Immediately after treatment, the area may appear and feel mildly sunburned, a reaction that will subside within 24 to 48 hours.

DOES IT HURT?
While pain tolerance is an individual matter, most people tolerate laser treatment well. Versus is the latest diode laser for hair removal from the cooling system, which makes the procedure is completely painless and safe for the skin. It consists in the issuance of mild beam, absorbed by the cells of the hair dye. This leads then to produce a very high temperature, which leads to protein denaturation and effective destruction of the follicle after a few treatments. In particular the VERSUS -Cool up treatment enables the Versus to be customised to the clients tolerance ensuring advantages that other treatments cannot provide.

HOW LONG DOES IT TAKE?
While the Versus Laser is able to cover relatively large areas at high speed, the exact time is determined by the size of the area being treated. The upper lip and underarms may only take 15 minutes however legs and larger areas may take up to half an hour. Full consultations and skin patch tests are given prior to any laser hair treatment.

HOW LONG DOES IT TAKE?
Women and men of all skin colours and most hair colours have been successfully treated. For best results, laser hair removal treatments are customised according to skin colour, hair texture and body site.

PRICE
With prices starting at just £40 the Versus™ 3 Color
Laser system is affordable and effective. If you have a particular area youd like to have treated and we havent mentioned it then please just email or call us.
Please note that we provide a FREE Consultation and a Patch Test which is required at least 24hrs before treatment.

Buy a Course of 5 Treatments and Receive 1 Free!

HOW MANY TREATMENTS ARE NECESSARY?
All hair follicles go through periods of dormancy and growth. As laser light only affects hair follicles that are actively producing hair at the time of treatment, resting follicles must enter the growth phase before they can effectively be treated. For this reason, treatment must be repeated until all hair follicles have passed through the growing phase.
The great advantage is a large area of the crystal 12 x 12 mm so that the operations are simple and quick to perform. Lightweight and compact head operator makes the work easier. Cooled head and infinitely adjustable pulse frequency of intense feelings boil any customer to a minimum. Depending on the area on which we operate and the type of hair we select the appropriate parameters. The recommended number of treatments in the sesions is 6 to 8 meetings regularly every 4-5 weeks.
Even after the first treatment the client see a big difference !!!

WHY USE LASER AND NOT IPL?
Laser hair removal is more effective than Intense Pulsed Light system (IPL) which uses less powerful, diffused light waves. Laser hair removal is safe than IPL due to its narrower ligt spectrum and can be used on any part of the body. Individual treatment times are faster and more convenient than IPL.
IPL treatment courses will take at least 3 times longer to complete and are therefore generally more expense overall than laser. IPL treatments wont achieve the same level of permanent hair reduction and could cause skin pigmentation.
WHO CAN HAVE LASER HAIR REMOVAL?
Laser hair removal can be used on any part of the body, popular areas we treat include the face, bikini, legs, underarms and backs for men, but other areas are shown in the diagram.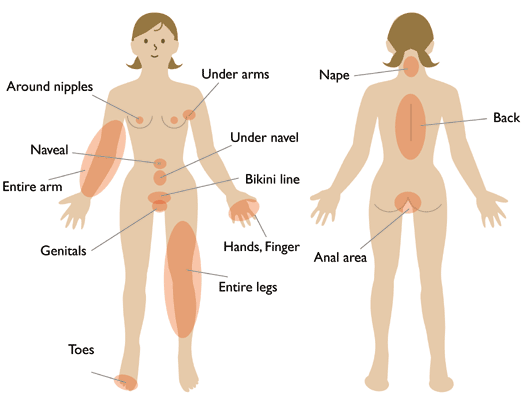 Patients with pale skin and dark hair achieve the fastest results since the contrast between their skin and hair colour enables the laser treatment to operate at its most efficient. However, our laser is one of the few that can treat mediterranean and asian skin types.
As the laser targets hair with pigmentation, it is not effective on white or grey hair which needs to be resolved withelectrolysis hair removal.

KEY FACTS ABOUT OUR LASER HAIR REMOVAL TREATMENT
You must have a test patch and consultation at least 7 days prior to starting a course.
All our treatments are performed by highly qualified and certified laser experts.
Treatment courses vary depending on individual needs, but most patients achieve the result they want in 4-6 treatments.
Individual treatment times vary depending on area - typically 15 - 45 minutes.
FOR SAFETY AND EFFECTIVENESS YOU MUST:
Allow tanned skin to fade before treatment and cannot use fake tan products.
Protect treated areas with SPF50 - 2 weeks after treatment and avoid direct intense sunlight.
Not bleach, pluck, or wax 6 weeks before and after treatment - shaving is allowed.
BEFORE EACH TREATMENT YOU SHOULD:
Shave the area to be treated.
Ensure no products such as deodorant or moisturiser are on your skin.
WE CAN NOT TREAT PATIENTS WHO:
Have Afro-caribbean skin types.
Have a suntan or sunburn.
Have a tattoo on the area to be treated.
Have semi-permanent make-up on the area to be treated.
Have vitaligo or active cold sores.
Are using Roaccutane or steriod creams.
Are pregnant.